Remember that feeling of relaxing and enjoying a good magazine? It's back.
We've taken it to the next level. Ancient Origins Digital Magazine is PACKED with wonderful, wow-worthy stories and rich images. Start your adventure, no strings attached!
Get taste of the top-level, high quality magazine on archaeology, history, mystery, science, and more.
Issue #1 is Completely FREE!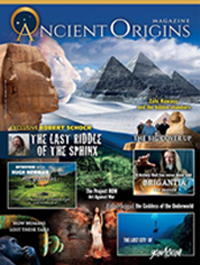 Save up to 25% OFF on a magazine subscription with a new membership package.
You get all the benefits of a BRONZE, SILVER or GOLD package, plus sign up for your issues for 6-months, or an annual subscription.
You'll love the glossy, high-resolution images and quality writing
Travel back in time and get to know the ancient players (and how they became so famous we STILL talk about at their lives today!)
Be thrilled by ancient puzzles and mysteries
Notable authors and experts are interviewed - find out what they're uncovering right now
Discover the latest in archaeological and scientific news
Discover mainstream thought AND independent, alternative perspectives
Eat like a king! Or break bread in a village kitchen. Try surprising and tasty ancient recipes
Tons of exclusive content you won't see on the website, or anywhere else!
Get that fantastic feeling again of relaxing and enjoying a good magazine