Pitcairn Island is a place so remote, and with a history so bizarre, that until recently it was viewed almost as myth rather than reality. But the events that took place on this tiny island in the Pacific Ocean were very real.
It is one of four volcanic islands in the southern Pacific Ocean that make up the Pitcairn Group of Islands. Located more than 3,000 miles from any continent, approximately halfway between New Zealand and the Americas, it is one of the remotest inhabited islands in the world.
The history of the Pitcairn Islands stretches back at least nine centuries, when the islands were colonized by Polynesians. Their culture flourished there for four centuries before mysteriously disappearing. Archaeological findings also suggest that different people from various points of origin came to Pitcairn at different times in the past.
When Europeans first landed on Pitcairn and nearby islands in the 17th century, they found many artifacts and traces of former inhabitants, including roughly hewn stone gods guarding sacred sites, representations of animals and humans carved into cliff faces, petroglyphs, burial sites with human remains, earth ovens, stone adzes, gouges, and other relics.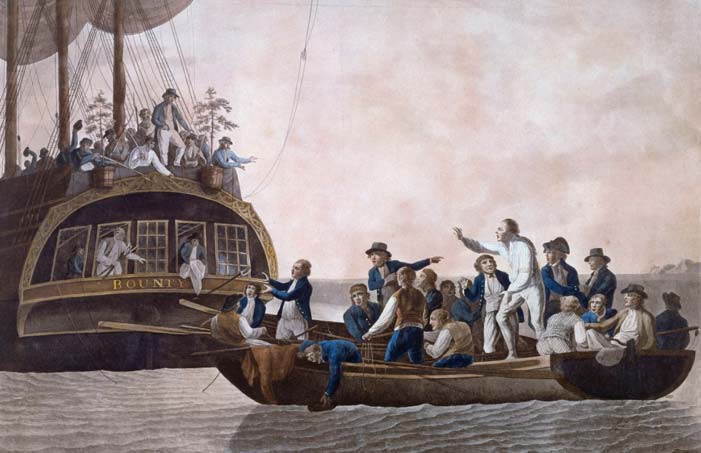 The island was settled by Europeans by a pack of mutineers of the HMS Bounty in 1790. Here, Fletcher Christian and the mutineers sent Lieutenant William Bligh and 18 others adrift; 1790 painting by Robert Dodd (Public Domain)
But the island's history would soon take a different path.
Settled by a pack of mutineers of the HMS Bounty in 1790, along with a small group of Polynesians, the island soon became like the famous 1954 novel Lord of the Flies, in which a group of boys stuck on an uninhabited island descended into savagery and immorality.
On Pitcairn, faced with physical, social, and psychological isolation, along with struggles for power, the population rapidly diminished due to murder, suicide, and madness, and the remaining inhabitants descended into incest, sexual abuse, and delinquency.
Today, 50 inhabitants from just four families remain on this ill-fated island that carries with it a dark history that has been retold in countless films and books.