2022 marks the centennial of one of the greatest archaeological finds in modern history – the discovery of the tomb of Tutankhamun. It was discovered by chance in the world-famous Valley of the Kings on the west bank of the Nile opposite Luxor.
Howard Carter and his predecessor Theodore Davis had been searching for Tutankhamun's tomb for almost a decade when George Herber, the 5th Earl of Carnarvon, decided to fund Carter's work. For five years there was no significant discovery, but in late September of 1922 a young boy stumbled upon a stone lying in the ground of Carter's base camp - it proved to be the tip of a staircase leading to the tomb of King Tut.
Carter began his excavations there on November 1st, 1922, and a few days later the staircase was revealed. Soon Carter found himself standing before the sealed door of a tomb. The following are some images from the excavations.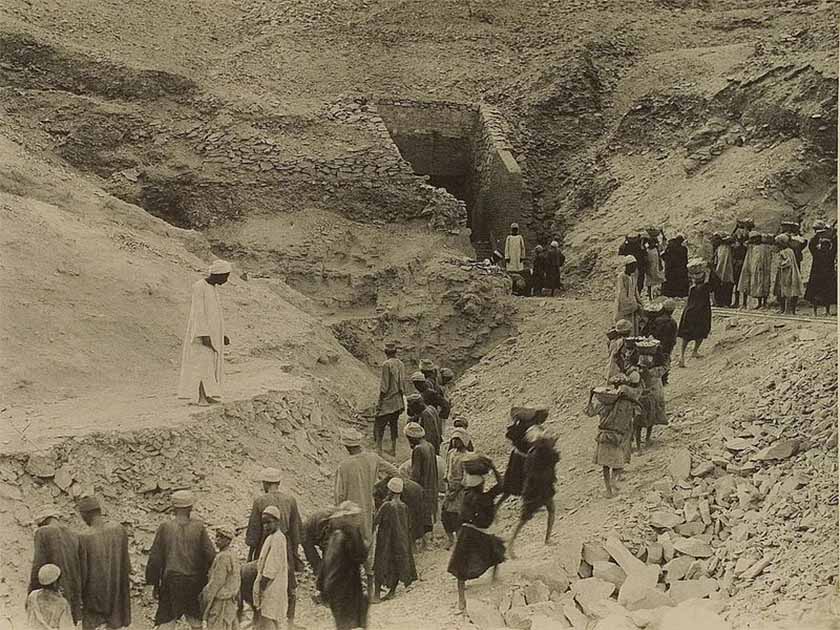 Burton photograph of the excavations of King Tut's tomb. (Public domain)
Entrance to the tomb. (Public domain)
Howard Carter and Lord Carnarvon stand in the partially dismantled doorway between the tomb's antechamber and the burial chamber. (Public domain)
Statues guarding the burial chamber. (Public domain)
The intact necropolis seal and cord fastening on the third (of four) great gilded shrines surrounding Tutankhamun's sarcophagus in the burial chamber. The unbroken seal confirmed that the king's body remained undisturbed, despite the tomb having been broken into and robbed several times in antiquity. (Public domain)
Howard Carter (kneeling), Arthur Callender, and an Egyptian workman in the burial chamber, looking through the open doors of the four gilded shrines towards the quartzite sarcophagus of Tutankhamun. (Public domain)
Tomb treasures packed in wooden crates being transported from the tomb to the banks of the Nile for transportation to Cairo by boat. (Public domain)
Carter informed Lord Carnarvon of his discovery via telegram and the benefactor arrived on the scene as excavations continued. Beyond the first door they discovered a long corridor filled with rubble then another sealed door, behind it there was a room now known as the antechamber.
On November 26th Howard Carter peered inside the room through a hole. Lord Carnarvon was standing behind him and asked, "Can you see anything?", to which Carter replied: "Yes, wonderful things." These videos present some of those "wonderful things" discovered within King Tutankhamun's tomb.
Dive deeper into the story of the discovery of Tutankhamun's tomb, the treasures it held, and controversies surrounding it in the article 'King Tut's Tomb: The Discovery, Treasures and Controversy,' available in the November-December 2022 issue of Ancient Origins Magazine. Get it here!
By Alicia McDermott